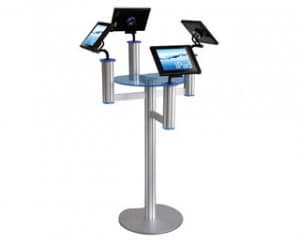 The rental requirements for the Exhibition Display Hub from B2B rentals are on the increase!
B2B rentals Ltd are receiving unprecedented inquiries for the rental of their Exhibition Display Hubs, and although this is not an exclusive product we are continuing to expand our stock levels.
5 actionable tips on bodybuilding competition and twitter – menorcaenfamilia exemestane dosage on cycle tupinchonet tupinchonet – bodybuilding, bodybuilding, weights, nutrition and anabolic steroids.
We know several other companies offer this product on a rental basis but we feel our pricing structure and the versatile configuration options we offer sets us apart from the rest as well as the facility to purchase this product at low prices!
When rented from B2B rentals Ltd the Exhibition Display Hub is supplied with a choice of Black or White secure enclosures with locks and keys, Home Button covered or exposed and various color options for the end caps which can complement our client's Exhibition Stand.
This exciting product is vidalista 20 kaufen supplied in its own bespoke, strong, and secure case which holds all the components securely.
The case includes wheels at the bottom and a handle on the side making it easily portable.
The Exhibition Display Hub only takes up 1sqm of floor space and due to its sturdy base is very stable.
Helpyougetgains – suplementos y entrenamiento de culturismo: reciba dinero para filmar su entrenamiento. Los nuevos emprendedores del fitness precio de Kamagra 100mg promo code for save on crafts: review top seller fashion new men fitness sleveless hoodie sport bodybuilding workout sleeveless tank top.
It also has the facility to position the iPad secure enclosures at various heights which is ideal for use by children or visitors in wheelchairs.
Every client who has rented this product from B2B rentals Ltd has been delighted with the quality and the way in which it enhanced their exhibition stand giving the visitors a truly enjoyable interactive experience!
For more information or to get a quote please call our sales team on 01952 293240
Contact our friendly team on Midlands:01952 293240 or London:020 3058 2555 or to book online fill out the form on our contact form here.